Welcome
From the great outdoors, to food and wine, we're confident you'll find what fits your lifestyle in Douglas County.

Practice state-of-the-art medicine at a top 100 Rural Hospital
CHI Mercy Health has been recognized nationally for providing excellent patient care. Most recently, Mercy was recognized as a 2022 Top 100 Rural Hospital.

Want to join us? We are hiring! #teammercy
Get in touch...

About Us

Located in Roseburg, Oregon, CHI Mercy Health's Hospital services Douglas County including the city and towns of Roseburg, Sutherlin, Winston, Myrtle Creek, Glide and Canyonville.

Mercy's history of service in the region dates back more than 100 years to when the Sisters of Mercy raised $12,000 from generous local donors to build Roseburg's first hospital. The 25-bed Mercy Hospital opened Feb. 22, 1909, on the bank of the South Umpqua River at the intersection of Harvard Avenue and Madrone Street. Several major fires, the Roseburg Blast of 1959 and growing patient activity resulted in the old Mercy Hospital being rebuilt and expanded three times until, after several expansions at the original site, a beautiful new hospital was opened at our current location on Stewart Parkway in 1977.

Currently, Mercy is a sophisticated, 174-bed medical center offering patients throughout the region local access to highly trained medical professionals, advanced technologies and a wide range of preventive, diagnostic, therapeutic and rehabilitative services. More than 1,000 talented and dedicated employees and 100 compassionate and giving volunteers work throughout CHI Mercy Health. It is their commitment that has helped Mercy become one of the country's most highly rated hospitals for quality.

Mercy Medical Center is a wholly owned subsidiary of Catholic Health Initiatives ("CHI"). Through the investment of CHI, patients in Douglas County and the surrounding region have access to a wide variety of high quality services not typically found in a rural community of our size. CHI combined with Dignity Health to form CommonSpirit as a single ministry in early 2019.

Our Mission

As CommonSpirit Health, we make the healing presence of God known in our world by improving the health of the people we serve, especially those who are vulnerable, while we advance social justice for all.
We're hiring for positions in the following departments and specialties:
Centennial Medical Group Opportunities
Cardiology - Invasive or Non-Invasive
Cardiology- Interventional
Gastroenterology
Gastroenterology Advanced Practice Provider
Orthopedic Surgery - Surgical Hospitalist/ Trauma
Orthopedic Advanced Practice Providers
Urology
Community Partner Specialties

Anesthesiology
Emergency Medicine
Family Medicine
Internal Medicine
Ophthalmology
Diagnostic Radiology
Radiation Oncology
Advanced Practice Providers
Careers
Hear from our physicians...

Benefits at CHI Mercy's Centennial Medical Group Division

Centennial Medical Group, a division of CHI Mercy Health, is a growing multispecialty physician group
We value work-life balance with great pay and benefits
We offer competitive market-based compensation for both salaried and production based positions
Benefits include:  Health, Dental and Vision Insurance, 401(k) with matching, Short and Long term Disability Insurance, Health Reimbursement accounts, Medical Malpractice/tail insurance, and Continuing Medical Education allowance.
Current Openings

Roseburg Oregon

About Roseburg

Roseburg is centrally located along Interstate 5 in Southern Oregon's scenic Douglas County. The city is nestled in a lush, forested region known as the Land of Umpqua.

The population of Roseburg is approximately 23,000, but the city is the center of Douglas County and serves more than 111,000 people who inhabit the many small surrounding communities.

The Roseburg climate is one of its most appealing features. Sunny days are common, and the mild temperatures make it possible to enjoy year-round the many recreational opportunities that are available in or near the area.

Real Estate

More and more health care professionals are looking for the kind of lifestyle that Douglas County offers. Here, individuals can put their skills to use and advance their careers while enjoying the benefits of the small-town life, where people truly matter, where neighborhoods still exist, where the views and enjoyment of nature aren't blockaded by big boxes, strip malls and the exhaust fumes of heavy traffic. Our organization includes a diverse range of individuals, from all over the world, but they all share at least these traits – an unwavering commitment to high-quality, respectful service and care, the hallmark of our organization for more than 100 years, and the understanding that rewarding professional careers and high-quality personal lives are not mutually exclusive.
View Listings
Cost of Living

Education

Douglas County has
13 public school districts
in the area spanning from Reedsport to Glendale.
Roseburg school district is the largest in our county with eight elementary schools, two middle schools, one high school and a virtual school.
https://www.roseburg.k12.or.us/
If you are interested in a private school, our county has eight options - you can
learn more here
.

Our area is also home to Umpqua Community College. UCC is one of the most picturesque colleges in the country, nestled between beautiful tree-studded hills and overlooking a large bend in the North Umpqua River. Natural volcanic rock and rustic, cedar shake architecture grace the 17 campus buildings located on a 100-acre plot of land six miles north of Roseburg. Easy access to Interstate 5 and mild year-around temperatures compliment the scenic beauty of the campus.
Visit:
Umpqua.edu
Local Food & Drink

Roseburg offers a lot of culinary options including a robust brewery and wine scene. You may stumble upon wonderful upscale dining options, award winning wineries and breweries, food trucks, Italian and BBQ. You will find hand-crafted pizza, wine bars, brew pubs, and a robust Saturday market if you prefer to purchase and cook your own food.

Restaurants
An array of restaurants await for you to explore in our area! You'll be pleased by the variety of options available from pizza, thai to indian cuisines - enjoy all of our eating options!

4.5 Star Rating by 291 Reviews
4 Star Rating by 517 Reviews
Breweries

You had me at beer. Roseburg residents know - and appreciate - a good brew and our local breweries deliver! Visit one of our local breweries and try a sample of high quality drafts or just go straight for your favorite.
Learn More
4 Star Rating by 82 Reviews
4.5 Star Rating by 20 Reviews
Wineries
Great views and even better wine. The Umpqua Valley is known for its phenomenal climate for growing grapes for wine, but really all you need to do is taste the wine and you'll understand. Pick any winery and you'll get a great view of the Umpqua Valley and an even better glass (or bottle) of wine.
Learn More
4.5 Star Rating by 32 Reviews
4.5 Star Rating by 76 Reviews
5 Star Rating by 6 Reviews
Farmers Markets

Rain or shine, this market is a must-do every Saturday. Fresh produce, speciality items, crafts, plants and more - this market offers local, fresh goodness from our small local farmers and producers.
Learn More
Local Farms

Cows, Eggs and Trees, oh my!
Farm life in the Umpqua Valley is as bountiful as it is beautiful. Check out the local farms for your purchasing needs.
Learn More
Arts & Culture

Arts and culture take center stage in Roseburg and continues to be a part of the heartbeat of Oregon. Enjoy local music, dancing and theater performances or spend an evening touring through the Umpqua Valley Arts and Natural History museum. You can also "become the artist" by participating in art, music, winemaking and cooking classes throughout our community. Roseburg's rich history is on display from our historic downtown to the cascade and callaham mountain ranges surrounding the city.
Experience Roseburg Arts and Culture
Festivals and Concerts

The summer in Roseburg stays busy with music and arts festivals throughout the community, Music on the Halfshell at the beautiful Stewart Park, concerts at Seven Feathers Casino Resort, and monthly art displays at the Umpqua Valley Arts Festival. The Umpqua Valley creativity is showcased year-round  as you discover the arts and culture lifestyle of Roseburg.
Music on the Half Shell
Umpqua Valley Arts
Take a short trip for a more formal affair by attending the opera or symphony in Eugene, just an hour north of Roseburg.  Eugene Arts and Culture
Art assumes many forms in Oregon. From the sand sculpture contests on the beach at Seaside to the international exhibitions at the Portland Art Museum, Oregon has no shortage of creativity and celebration of art, culture and beauty that makes this a unique and wonderful place to live. 
Things To Do

The grass really is greener here...

Golf
Roseburg Country Club
is an outstanding private course that features affordable membership rates, a beautiful new clubhouse and year-round playability.
In addition, several public courses can be played in the surrounding area. These include the acclaimed
Bandon Dunes and Pacific Dunes
, rare links courses that run alongside the Pacific Ocean just 90 minutes away.
Ten minutes north of Roseburg, in Sutherlin, Umpqua Golf Resort offers a scenic and challenging course, and 15 miles south the Myrtle Creek Golf Course is one of America's highest-rated public courses.
Built on a sand-and-gravel mine alongside the South Umpqua River in Roseburg, Oregon,
Bar Run
is the newest golf course from Pacific Northwest native Dan Hixson.
Fishing
The Land of Umpqua may be best known for the bounty and power of its rivers, where steelhead and other species abound. Just minutes east of Roseburg, the famous North Umpqua River offers 31 miles of spectacular fly-fishing waters. The river offers the longest summer-steelhead season of any river in the world, running from June until mid-November.

Roseburg also is less than 90 minutes away from the Oregon coast, which offers spectacular salmon fishing, crabbing, clam-digging and a host of other coastal activities.
National Parks

Douglas County offers many options for the nature lovers at heart and if you have a National Parks must see list, this is a great place to start! Looking for more adventures? Check out the many options to fill your nature loving heart - or start a love affair with all the outdoor options!
We recommend starting East with a 90-minute drive from Roseburg, the breathtaking Crater Lake is, at 1,949 feet, the deepest lake in America. The intense blue is a must see! The national park offers a multitude of recreational opportunities, from hiking and fishing to overnight lodging in the beautiful, historic Crater Lake Lodge.
Located just five miles from Crater Lake, Diamond Lake is a favorite, year-round destination for fishers, boaters, backpackers, mountain bikers, campers and those just looking for a relaxing getaway. It's an easy day trip from Roseburg or, with more than 90 guest lodging facilities, it can accommodate longer stays as well.
Continue driving East and discover John Day Fossil Beds colorful rock formations.
Interested in heading South instead? The Redwoods in North California are about 2 hours away and once you see the show-stopping trees, you'll want to explore more.
Crater Lake National Park
Diamond Lake Resort
John Day Fossil Beds
California Redwoods
Columbia River Gorge
Oregon Caves
Mount Saint Helens
Explore the North Umpqua Trail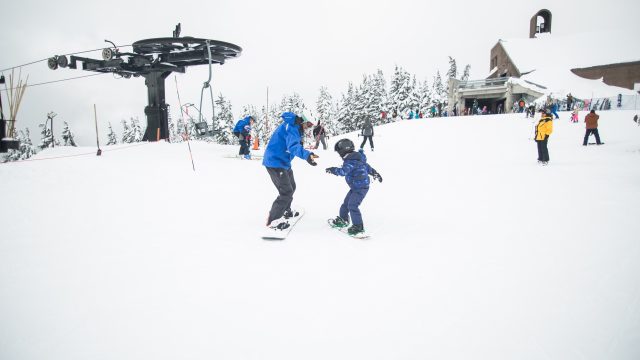 Skiing & Snowboarding

12 unique ski areas are within the state of Oregon. The state averages around an annual 400 inches of snowfall. Mt. Bachelor located near the town of Bend is Oregon's largest ski area with the highest skiable elevation in the state. It has one of the longest ski seasons in the Northwest usually from mid November into May. Mt. Hood is just 90 minutes from Portland. It's sprawled across Mt. Hood's protected southeast side. Mt. Hood offers the largest night skiing area in America.
Willamette Pass
Mt Bachelor
Mt Ashland
Mt Hood
HooDoo
Ski Bowl
Timberline Ridge
Sporting Events

Are you an avid sports fan? If so, you'll love the convenience of collegiate and professional sports in the Pacific Northwest. From Olympic track and field events and Division I athletics an hour away in Eugene to professional soccer and basketball just 3 hours north in Portland, you'll enjoy the competitive atmosphere and talented athletes our area showcases. 
Portland Trail Blazers
Oregon Ducks
Oregon State Beavers
Portland Timbers
Nearby Communities

Eugene
Eugene is nestled on the Willamette River. The University of Oregon is home to the Northwest-focused Museum of Natural and Cultural History and the Jordan Schnitzer Museum of Art, known for its Asian collections. The Fifth Street Public Market has cafes and locally owned stores. Green spaces include riverside Alton Baker Park, with extensive trails, and Hendricks Park, featuring a rhododendron garden.
Medford
Medford is a beautiful scenic drive on Interstate 5 south of Roseburg. Experience what Forbes' named a global wine destination. Treat your taste buds to the internationally-prized cheeses of Rogue Creamery. Get outdoors and enjoy Southern Oregon's world-class fishing, hiking and rafting.

90 Minutes South Of Roseburg

Portland
Portland is Oregon's largest city; it sits on the Columbia and Willamette rivers, in the shadow of snow-capped Mount Hood. It's known for its parks, bridges and bicycle paths, as well as for its eco-friendliness and its microbreweries and coffeehouses. Iconic Washington Park encompasses sites from the formal Japanese Garden to Oregon Zoo and its railway. The city hosts thriving art, theater and music scenes.

3 Hours North Of Roseburg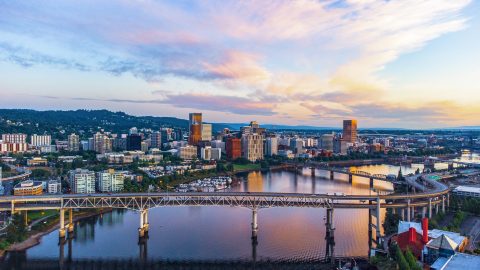 Bend
Nestled amongst the Cascade mountains, Bend is a small city on the Deschutes River, with ski resorts and multi-use trails everywhere you look. Bend is an outdoor lover's paradise! It's a beautiful, scenic three hour drive east of Roseburg. Bend Oregon is known for its numerous craft breweries and great recreational spots such as Mt. Bachelor. Bend has the highest average number of sunny days in the state. With over 40 restaurants ready to accommodate you and your four legged friend, more than 51 miles of urban trails in town, and over 13 off-leash areas in city parks and National Forests, Bend Oregon is literally a paradise for man and woman's best friend.

Coastal Communities

U.S. Route 101, is a major north–south U.S. Highway in Oregon that runs through the state along the coastline near the Pacific Ocean. It runs from the California border to the Washington state border. Water and outdoor activities abound on the Oregon Coast, from kayaking, scuba diving and surfing to world-class fishing, crabbing and clamming. Hit the sand in an ATV, hike winding trails, bike along the boardwalk, and run the same path as legend and local hero, Steve Prefontaine. Take a chance with Vegas-style gaming, catch a movie at the historic Egyptian Theater, and make time to dine upon a hilltop. Your adventure awaits.

1-4 Hours West Of Roseburg

Seattle
Seattle, a city on Puget Sound in the Pacific Northwest, is surrounded by water, mountains and evergreen forests, and contains thousands of acres of parkland. Washington State's largest city, it's home to a large tech industry, with Microsoft and Amazon headquartered in its metropolitan area. The futuristic Space Needle, a 1962 World's Fair legacy, is its most iconic landmark.

5 Hours North Of Roseburg

San Francisco

San Francisco is often called "Everybody's Favorite City," a title earned by its scenic beauty, cultural attractions, diverse communities, and world-class cuisine. Measuring 49 square miles, this very walk-able city is dotted with landmarks like the Golden Gate Bridge, cable cars, Alcatraz and the largest Chinatown in the United States. A stroll of the City's streets can lead from Union Square to North Beach to Fisherman's Wharf, with intriguing neighborhoods to explore at every turn. Views of the Pacific Ocean and San Francisco Bay are often laced with fog, creating a romantic mood in this most European of American cities.

7 Hours South Of Roseburg

Get in touch...

Michelle Mabray

Physician Recruitment Director
Kendall Bly

Physician Recruitment Assistant